CALIBRATION
& TEST BENCHES
Winlight designs calibration and test benches (optics and optronics) capable of aligning, checking and qualifying the optical and photonic aspects of high-performance systems.
Based on specifications, Winlight designs calibration benches (optics and optronics) capable of aligning, checking and qualifying system optical and photonic performance. We deploy our proven expertise to meet customer requirements, with solutions tailored to their operational needs.
We also make Optical Ground Support Equipment (OGSE), calibration and test benches designed to check the quality and optical transmission capabilities of space and military embedded equipment, including satellites and weapon systems. Our test systems span the spectrum from ultraviolet to far infrared (IR bands 2 and 3)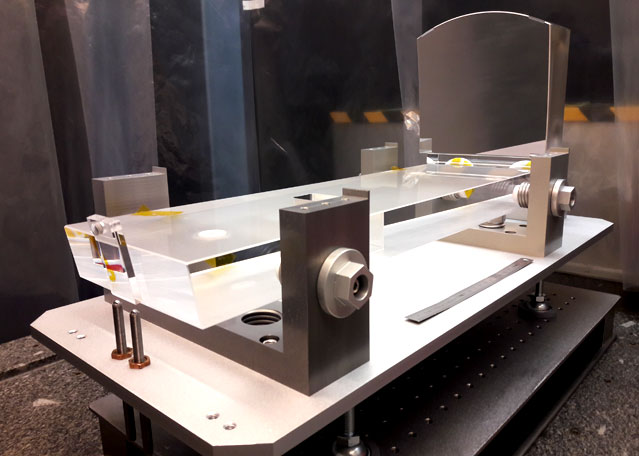 OGSE (Optical Ground Support Equipment) – SpaCE
Optical ground support equipment (OGSE) plays a vital role because it's designed to deliver the extremely high accuracy and reliability needed to validate flight instruments.
Winlight makes the following:
Hyper-stable telescopes based on combinations of materials with low expansion coefficients
Telescope simulators, in particular using molecular adherence technology on low-expansion coefficient materials to produce hyper-stable optical functions
Simulators designed to test telescope focusing, using the Hartmann method for instance
These systems are tested using state-of-the-art interferometry techniques to guarantee the flawless quality needed for spaceborne instruments. No matter what type of system you deploy that includes an optical function, Winlight provides the technology that addresses your specific requirement.
test BENCHEs & TOOLS – MilitaRY
Working to customer specs, Winlight makes test benches and tools for the production of military equipment, used to check performance in our own workshops.
Some of our products are listed below:
3-channel co-alignment bench
IR collimators with black bodies
Sight adjustment tools
Transmission axis alignment tools
Collimateurs with IR scene generators
Complete optronic benches with human-machine interface tailored to customer specs